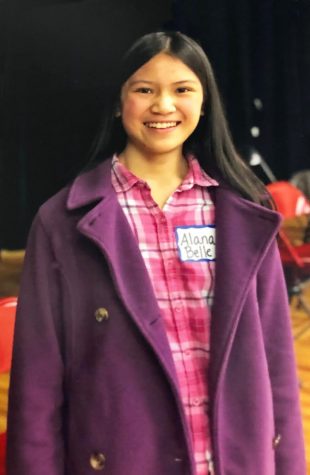 B
orn on January 3rd, 2005, Alana Belle M. Tirado is a current freshman at West Anchorage High School, and will graduate in the Class Of 2023. She attended Rogers Park Elementary and Romig Middle School. In eighth grade, she was the state champion for the 2019 National Geographic Bee competition, and also for National History Day (individual documentary division). She greatly enjoys school, keeping a 4.0 GPA while at Romig, and is doing well so far at West High.
Tirado considers Journalism to be a very fun class (Mrs. Stephl rocks!). Besides Journalism, Tirado also enjoys Math and watching NFL games, with her favorite team being the Seahawks, and next, the Giants, Packers, and Chiefs. Her favorite song artists are AC/DC and Twenty One Pilots, but loves songs sung by other artists too, such as
Hotel California, Hooked On A Feeling, Sweet Caroline, Chattahoochee,
and
Centuries
. Tirado has played guitar, flute, and recorder.
A favorite quote of hers is by General George S. Patton, which is, "
Accept the challenges so that you can feel the exhilaration of victory." 
Alana Belle M. Tirado
Feb 11, 2020

To Stand Or Not To Stand: The Pledge of Allegiance at West High School

(Story)

Jan 30, 2020

The Power Of 7th Hour: Principles Of Biomedical Science Class

(Story)

Jan 27, 2020

Gratitude to Goudreau's God of Good Grades

(Story)

Nov 20, 2019

"Since The Fall Of '90": Mr. Goudreau's 30-Year Career At West High

(Story)