The Power Of 7th Hour: Principles Of Biomedical Science Class
A six-period day sometimes just isn't enough for some diligent students. For some, the key to gaining extra credits and knowledge lies in taking classes online or after school. For students taking Kirsten Davis' after school class, they know the power of seventh hour.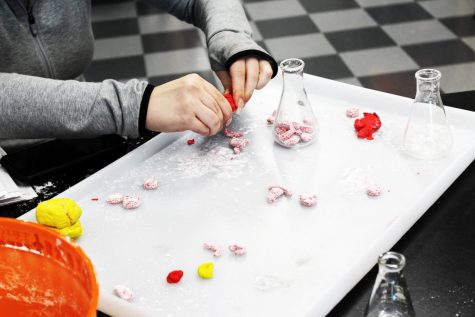 Davis' seventh hour class is Principles of Biomedical Science (BioMed), a class which comes with a full year's science credit. Biomedical Science is currently funded by Project Lead The Way (PLTW), a project-based educational program being offered across schools in the U.S.
"I look at it as a combo of Biology and Chemistry working together." Davis says. "The main difference about BioMed is that it's all project based… I lecture very, very little. It really overlaps a lot with what you're learning in Biology, Anatomy, of course, and Human Body Systems."
Ava Smith, a current freshman, says, "I took this class because it's something that I'm interested in and might want to pursue in the future."
Victoria Rossoff, a sophomore, sees several benefits in taking Biomedical Science, and does not mind it being after school.
"My mom gets home really late, so staying a few hours after school doing something [is good]. Also, it's an extra class so I don't have to take another science class for my remaining high school years," she said. Later, Rossoff added, "It's fun. Sometimes you realize that you have to stay after school, and you get kind of bummed out because it's like, 'Ugh, another class', but there's no homework… and Mrs. Davis, she's really easygoing and also really nice."
Biomedical Science also relates to forensics, medical examinations, and autopsies; similar to those in popular TV shows NCIS or Law & Order. Students in BioMed are currently trying to find the cause of death of a fictional woman named Anna Garcia. "Most of the labs we do are related to find out how Anna died," says Rossoff.
Smith soundly believes that Anna was murdered, although Rossoff has mentioned that more factors have slowly been pointing to disease.
"I think Anna Garcia was murdered," says Smith. "Even though she had numerous diseases, there was lots of blood and footprints in the house, and signs of a struggle." To add, Smith enjoys how the lessons are presented. "For my learning style, I'm a very hands on learner. I learn by doing stuff and listening. In this class, there's little to no book work; it's project oriented and that's good for me."
Rossoff also says that she prefers BioMed over regular core classes, such as Biology and Chemistry. "I hated Biology, and I'm not really a fan of Chemistry either. I like this class better because it's explained well, and the labs give the hands on experience."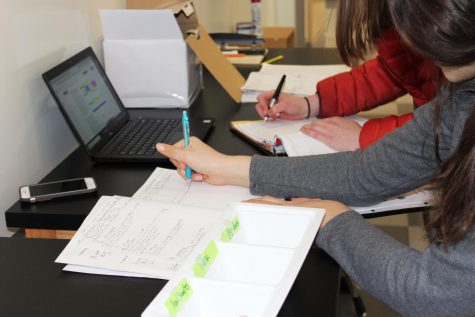 BioMed actually turns about to be the beginning of a four year pathway, which Davis describes to be very advantageous for students.
"If you take all four of these classes, you will have a benefit and a leg up on lab skills. Students say that they feel really comfortable in the lab, and comfortable with the unknown." Davis later added, "…it's about problem solving. [About] figuring how to approach something in a new way, and not be panicked about it, and using your resources well."
Rossoff is interested in taking the next class in the pathway, Human Body Systems. However, Smith would like to take the entire pathway, but does not believe that she will find time to do so. However, both Rossoff and Smith are glad that West High offered the opportunity of a seventh hour, and feel like they have gained a lot from it.
"I think that I have learned a lot from this class. It has supplemented my knowledge of Biology and Science," concluded Smith.