2017-2018 Staff
Reporter
Salvador Roberto Delreal was born in Anchorage, Alaska on January 5, 2000.  Salvador is the the middle of the five children of Roberto and Angeline Delreal.  He is part of a diverse family with his father coming from Monte Es...
See Salvador Delreal's profile
Reporter
My name is Carl Doehl, I'm 16 years old and a Junior at West High School. I was born in Daegu, South Korea and was brought to Seoul, South Korea. I was adopted when I was six months old and moved to Anchorage, AK where I have s...
See Carl Doehl's profile
Reporter
Quinn White is a senior at West High School who hopes to one day become a reporter. When she's not writing articles for her school newspaper, the Eagle's Cry, she enjoys traveling, spending time with her friends and is an avid hot...
See Quinn White's profile
Reporter
Sydney is 17 and a senior here at West. Some the things she enjoys are singing, listening to music, theatre, playing the violin, and reading. Her favorite book series is the Percy Jackson and the Olympians by Rick Riordan. One of her c...
See Sydney McQuaide's profile
Reporter
Audrey Hunt is a sophomore this year at West High and will be graduating in the year 2020. She has lived in Alaska all her life and loves to go hiking and knee boarding out at her cabin. This is her first year in journalism an...
See Audrey Hunt's profile
Reporter
Ariana Foy is 18 years old, born on November 18th, 1999 in Anchorage, Alaska. Ariana has lived in Anchorage all her life, and loves it here. She has an older brother named Andrew and a younger sister named Annaleise. Ariana is ...
See Ariana Foy's profile
Student
          Paola Gomez Garcia was born December 2nd, 1999. She came to Alaska at the age of two from Chihuahua, Mexico and has lived in Anchorage, Alaska for almost 16 years now.  Paola lives with her two parents, Sergio and Rocio, and her younger sister of nine years, M...
See Paola Gomez Garcia's profile
Reporter
Dan Da Man Bradbury is an 17 year old senior at West Anchorage High School. Dan enjoys playing Football, Wrestling, Bowling and Track & Field. Dan plans to further his education while playing football in college. Dan Da...
See Dan Bradbury's profile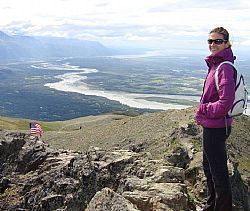 Adviser
Rachel Stephl is the Broadcast Journalism I and II teacher at West High. She earned her Bachelor of Science in Journalism degree from University of Colorado Boulder in 2006. Stephl teaches in Room C153. Visit her or email st...
See Ms. Stephl's profile