2020 West Winter Hoops
West Anchorage High School boys basketball is back in action with a brand new team. After the loss of varsity players, mostly graduated seniors, Coach Josh Muehlenkamp is bringing in a young, but fast and explosive team. After losing to East Anchorage High School in the state tournament last year, West looks to seek revenge, and have another great season in the process.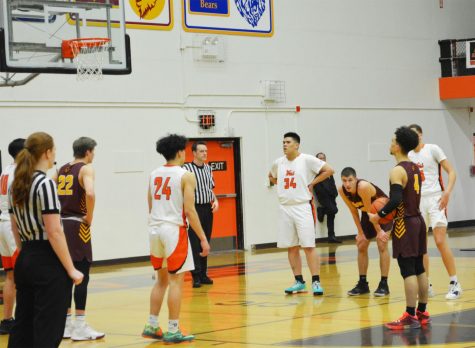 Traivar Jackson, a 6'4'' junior forward at West, has been on the varsity team since freshman year. Jackson was selected as the team captain for this year's team and he wants to carry that role proudly. "I have to be a leader, and I have to show my team what to do, and not be a bad example," Jackson says.
After being on the varsity team for three years now, Jackson feels like this year's team connects better than any of the years he's been at West. "Our best trait is the way everyone gets along with each other, we all hang out together, and it's really cool to see," Jackson says.
Lim Nou is a 5'9'' junior guard, and he will be playing his first year on the varsity team for West. Usually playing on varsity for the first time can be stressful and nerve racking, but not for Nou, as he is accustomed to the varsity level from playing varsity for the football team this year. "Playing on varsity is faster, way faster, and it's more organized, but my goal is to be a starter for at least one game," Nou says.
Even though Nou respects teams like Colony High School, and Dimond High School, who will give West a challenge, he believes his own team is the most competitive. "We grind every day, we work every day, we love to be competitive, when we lose we take that serious," Nou says.
Anthony Snow is a 6'4'' senior forward. Snow's high school career is coming to an end this year. Snow will be playing his third year on varsity, and wants to do greater things than he's ever done before in basketball. His goal is to win the state championship, and go out on top. "It would mean everything, I don't know how it would feel, I just got to give it all I got so we can get that state," Snow says.
After playing for West for the past four years, Snow has gone up against many players, and has had a different bond with each player, but only one player stands out to him when talking about chemistry on the court, and that's fellow senior Blake Muehlenkamp. "He's one of my closest friends on the team. Him and I have always played against each other since middle school, and we became friends my sophomore year, and ever since then we've been close," Snow says.
West has a strong team, with a lot of players from different backgrounds. That's one of the cool things about West is that the school is diverse, and has kids from all over the world. That's why West is so entertaining because they have so many unique story lines tied to the players. West will always try to compete for the state title, we will just have to see if this is the year they go back to glory.