¡Viva! Celebrating Hispanic Heritage Month at West High School
Hispanic Heritage Month is an annual celebration in the United States that lasts from September 15th to October 15th. First established as Hispanic Week in 1968, it expanded in 1988 when legislation was signed into law by 40th President Ronald Reagan. September 15th was chosen as the starting date to commemorate the start of the Mexican War of Independence. This year at West High School, one of the most culturally diverse high schools in the United States, the festivities were in full swing for the entire month, powered by inexhaustible energy and excitement.
Translating to "Mes de la Hispanidad" in Spanish, Señora Yesmid Rodriguez, one of the Spanish teachers of West High, plans most of the school celebrations.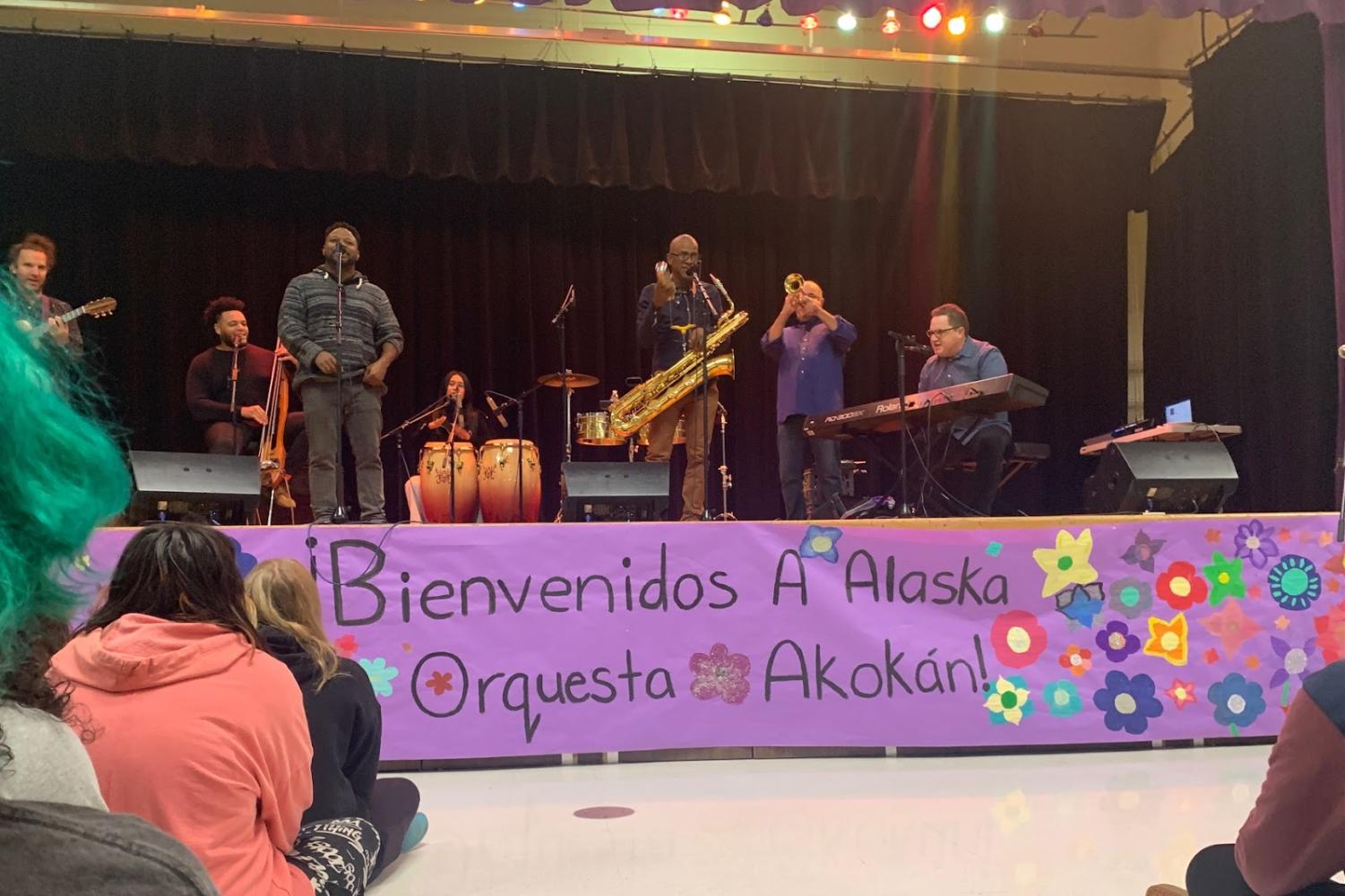 "It is important for me to promote Spanish culture, and to create connections between  community, cultures, and students here at West High," says Rodriguez. "To celebrate, we organize an event each week. A professor from Mexico came to speak about Spanish culture. We had a painter [Francisco Ramirez] visit that makes Hispanic themed, traditional paintings, and we had educational presentations made by students."
Rodriguez, along with the help of Romig Middle School teacher Señora Anaely Hernandez-Leon, was also able to book an hour-long concert for the students of Romig and West.
"The Orquesta Akokán from Cuba agreed to play for the students of Romig and West. We contacted the Anchorage Concert Association, and they gave us a list of bands that were willing to interact with the students. The Orquesta Akokán has a history of connecting with people in the community, and they had a concert at the Performing Arts Center later that day", explained Rodriguez.
The Orquesta Akokán is a Latin Jazz ensemble that released its debut album in 2018. Some of its leading members are producer/guitarist Jacob Plasse, pianist Michael Eckroth, and vocalist José "Pepito" Gómez. During the school concert, some students received the opportunity to join the Orquesta Akokán onstage and ask band members questions.
"Something interesting is that most of the Orquesta Akokán here today is from Cuba, but Michael and I are from the United States. But we all still had the idea to play Cuban music from the 50s," described Plasse. "It's a mix of cultures. Some of us started playing music later than others, but we decided to start this band and we all love playing music."
Eckroth elaborated on the name of the band, explaining that "Akokán" is a Yoruba language word in Cuba that means "from the heart." Gomez also promoted their new 2022 album 16 rayos. Several West and Romig students also tested out the band's instruments, such as the congo drums, timboles, and maracas. 
Rodriguez also collaborated with Anaya Latin Dance, a dance school owned by husband-wife duo Ciro and Liz Anaya. The Anayas taught students the basics about salsa and reggaeton dance moves in the West-Romig library. Many students found the dancing to be fun, and called for the Anayas to visit again.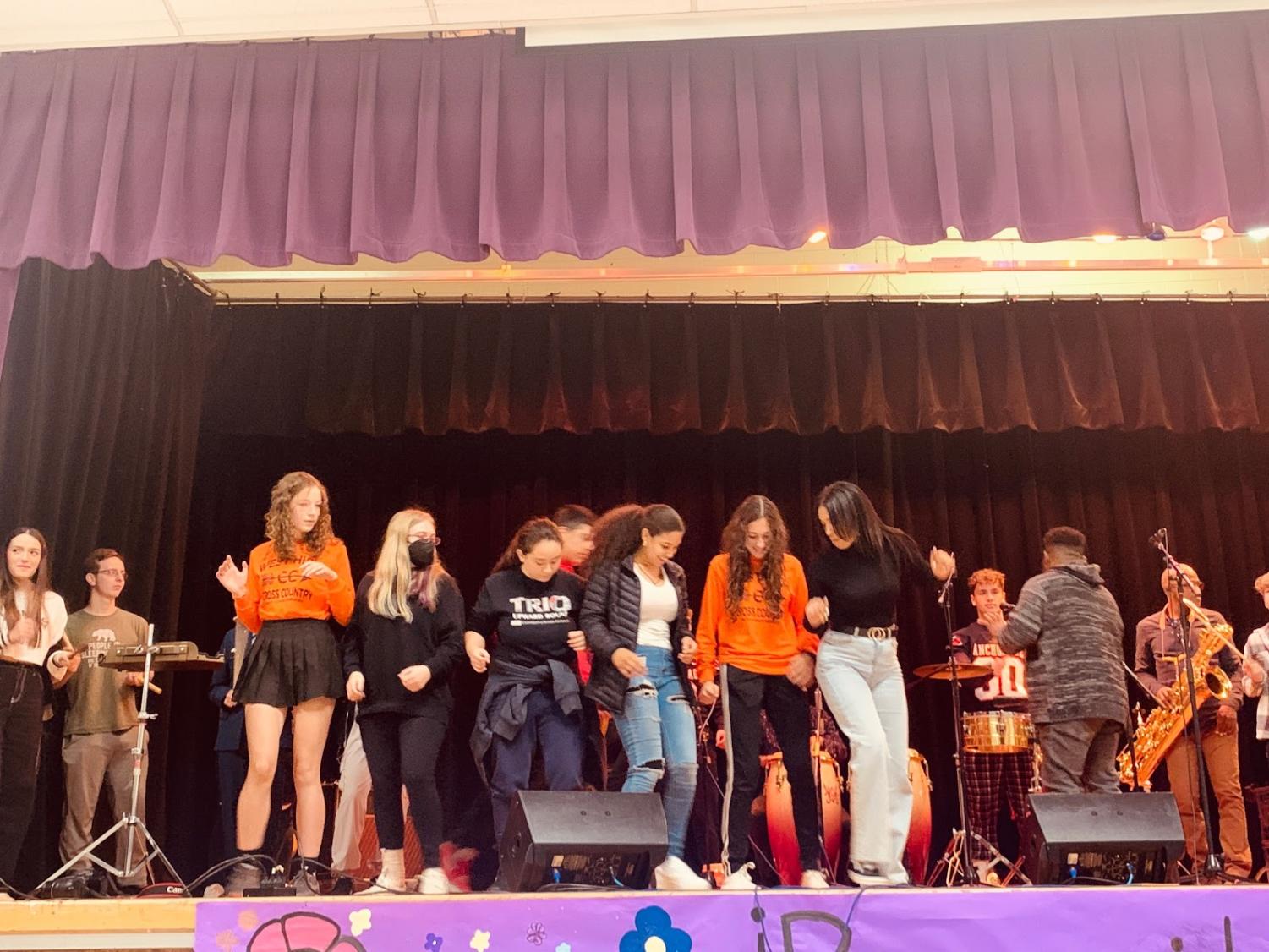 West High Spanish Club President and senior Aitano Naverette stated, "I'm glad that Spanish is really present at West High School. Students are involved and interested in learning more about Spanish culture, as people might find they don't truly know too much about it."
Daniela Barrera, a senior and active member of Spanish Club, added onto Naverette's comments. "Mes de la Hispanidad is a really good month to celebrate, commemorate, and remember where Hispanic and Latin roots come from. Most of the time, we think of Spanish as 'just a language.' We should see it as much more than that because it has roots. There are traditions and customs."
The Spanish Club is open to all West High students. Activities involve planning for Mes de la Hispanidad, practicing Spanish, learning about Hispanic culture, and eating churros. Barrera and Naverette believe that they do good teaching another language through actual interaction, and not just by textbooks and audio recordings. During one Spanish Club meeting, Naverette spoke about the different vocabularies within Latin America, and the usage of slang.
"West can greatly benefit from having its Hispanic students shine," says Barrera. "Seeing a lot of people speaking Spanish fairly well is encouraging." 
Rodriguez and Naverette both encouraged students to join the Spanish Club (which meets Thursdays during lunch) and enjoy the festivities. Even though Mes de la Hispanidad concluded onOctober 15th, the activities and the fun aren't over. 
"The Hispanic holiday Dia de las Muertes is approaching also. [The Spanish classes] want to make an altar. There is a member of the community named Carolina Vidal, who owns a business making piñatas. She comes to West every year and makes mini piñatas with the students. It's one of her favorite things to do with us."
During the 2020-21 school year with virtual learning brought on by COVID-19, Vidal was unable to continue her tradition, but returned to celebrate for the 2021-22 school year. Rodriguez stated that this year, the 2022-23 school year, will be Vidal's last year to come to West High, sadly.
"This year will be Vidal's last year to join the students at West, as she will be returning to Mexico. I'm glad that we were able to connect with her after the COVID-19 pandemic. In fact, our celebrations have grown stronger after the pandemic. On the computer, it was easy to feel disconnected. We should always look for ways to celebrate and make students feel happy, and connect with those who have Spanish culture in their families. Hispanic Heritage Month is a priority for me."
Thanks to Rodriguez, members of the Anchorage community, and the eager students of West High, Hispanic Heritage Month was a major success. West High displayed that Spanish culture is thriving and will live on. ¡Viva la vida! (Long Live Life!)
Leave a Comment