Kindness Looks Good on You : West High YANA Club
West High School's YANA Club is a national club that spreads mental health awareness and suicide prevention. YANA Club stands for "You Are Not Alone," and they meet on Tuesdays at lunch in room 28. Here at West, the club is sponsored by Carri Elfstrom and Kendra Stolee. The past few years they have called it a Kindness Club to help incorporate kindness in the school and community.
YANA Club gives kids a safe place to hang out and a way to make new friends. Elfstrom says, "Mental health issues are overlooked and not easy to talk about…you probably need a pretty cool teacher to help break the barriers and help talk about things like that." She has been sponsoring YANA Club for six years now and feels it impacts West for the better, by creating a community for people to feel safe and create a kind environment for everyone. Each semester the club does some act of kindness for the student body and the community, such as hand out candy and treats around the school and give encouraging notes to students.
Lily Flanum has been a part of YANA Club since the beginning of her sophomore year and is now a junior. She heard about YANA Club from the announcements and had also known Mrs. Elfstrom [Jones] so she decided to go one day with her friends. She says, "I noticed the positive atmosphere…and I liked the way that they were motivating people to be kind." She feels it has helped her incorporate more kindness into her life. They give presentations about future events happening in YANA Club, mental health awareness and more. Presenting in classes for suicide prevention and mental health helped her become more confident with public speaking.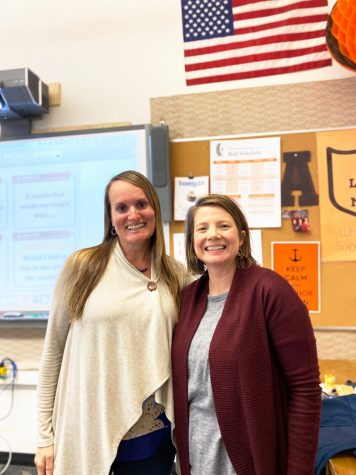 Kelsey Johannes is also a junior at West. She has been a part of YANA Club since freshman year, and she starting helping out and taking the lead on spreading awareness her sophomore year. She loves how YANA Club is well-known and believes it has changed her a lot since she joined. She says, "It's really helped me have a more important impact on the school..It definitely helps me see other people's perspectives for bullying."
Johannes is very excited for her next year in YANA Club and enjoys having a place to hang out with kind people once a week. She believes it is a great way to get to know people. "It's a big welcoming open environment…it's a really great way to get to know people," she says. She thinks everyone should have the opportunity to learn about mental health awareness and thinks that YANA Club is a great place for that. "I feel like every school needs some sort of training on mental health."
Overall, Johannes seems to really enjoy her time in this club and loves Elfstrom and the way that she runs it.
Isaiah Cruz was a member of YANA Club during his junior and senior years. He says, "You don't not hear about YANA Club when you're here." He heard about the club from mutual friends and thought it sounded like a great community in which to surround himself. He loves helping spread mental health awareness and kindness around the school because he feels that kids need support so they don't feel alone. "We do QPR (Question, Persuade and Refer) presentations for suicide preventions…I used to not like talking in front of classes…it just made me a better speaker," Cruz says. Similar to Flanum, he has become more comfortable with public speaking because of YANA Club.
YANA Club is a good way for students to come together and help people in the school and community. It helps kids have a supportive, safe place to be. YANA Club also allows kids to open up to peers and gives them a support system whether they do or don't have one at home. This club has a strong community and has helped so many students throughout the years grow and learn outside of school work and in a fun environment.