Student Facilities at West High
For students attending West Anchorage High School, using student facilities such as bathrooms and water fountains can often be a negative experience. Students often encounter foul odors, graffiti, and sinks that are out of order. Many have grown frustrated over the uncleanliness that is often found around the school, as nearly 2,100 students and staff share the building, which is almost 70 years old in the main areas.
Lindsey Etukeok, a sophomore at West, describes the girls bathrooms around the school as sloppy and unclean. "Sometimes people won't even flush, which is really gross. There's been a couple times where I went to the bathroom and there's [fluids] everywhere, and it smelled [unpleasant]," she said. She went on to talk about how she wishes her fellow students would take better care of common spaces.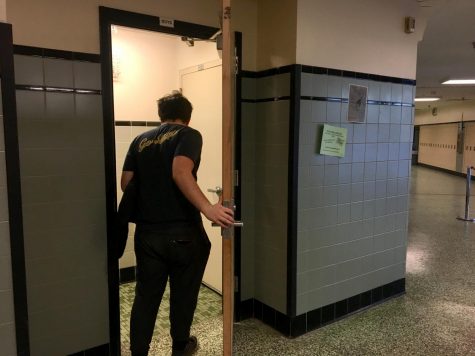 In 2016, West unveiled the new Career & Technical Education (CTE) Wing, complete with four new bathrooms. These new bathrooms quickly became a hot spot for students, as they were now the cleanest in the building. Only a few weeks later, two of the bathrooms were made to be exclusively staff only. Some students were annoyed by the fact that they were blocked from using that restroom, while teachers were relieved to have a bathroom that was located closer to their classrooms.
David Legg, the staff services vice principal said, "Most schools have separate [facilities] for students and teachers. It's professionals that are teaching young adults, which are minors. There are boundaries, and it's important to have separate facilities."
One issue that goes beyond just bathrooms and water fountains is graffiti around the West campus. For example, Legg said that before winter break someone vandalized the side of the building with obscenities. By the next morning, the district had already taken care of the issue and had removed the graffiti. No matter the weather, ASD takes initiative to remove graffiti as soon as possible. "The sooner we take care of it, the less likely it comes back. If you leave it there, it becomes the norm, people [will think] it's okay to do this. By quickly taking care of it, it kind of flushes the culture of thinking graffiti is okay."
Legg explained that most graffiti is found in the bathrooms after school hours, and that most cleaning crew staff and security guards are trained to take care of graffiti. Etukeok noted that most of the graffiti she has seen around the building has been concentrated in the bathrooms by the front office, and how many of the things she has seen have been offensive or slanderous.
Karen Habichit, a senior at West, often finds herself fed up with the graffiti she sees. She said, "[graffiti] is a bad idea to do because it's destruction of government property." Students can look forward to having new water fountains that are better suited to fill up water bottles before the end of the 2017/2018 school year.