"The Little Mermaid"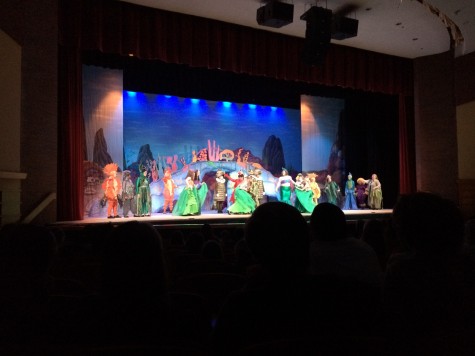 At 7 p.m on Thursday, February 11th, the West Anchorage High School production of "The Little Mermaid" had it's opening night. Hundreds of attendees gathered at the West High theater to watch the show.
The production followed the Disney version of the story, and lasted about an hour and a half. All of the classic songs such as "Under The Sea", "Poor Unfortunate Souls" and "Kiss The Girl" from the original Disney movie were performed.
The play's cast consisted of dozens of West students. Other students helped David Block, the theater director, produce the play, including Levi Davies, who took attendees tickets at the door as well as helped tech the production and build the set. "It was a lot of fun!" Davies exclaimed. 
Davies went into detail about the costuming for the show: "The costuming was terrifying. There was a lot of costumes. There was probably over a million dollars worth of costumes on rent from a costume shop in the lower 48. It was quite a big production."
For sophomore, Hannah Hickenlooper, acting in "The Little Mermaid" was her first time ever being in a play. She played a sailor, a sea creature and a chef. "It went pretty well, we had some really great performances and a lot of great people in the show. We worked hard." She went on to talk about how eye opening the experience was for her, "It was really insightful because I didn't realize how much work it took to be in a performance. It was really cool."
After the premiere of "The Little Mermaid" there were three other shows. One was on Friday the 11th, at 10 am for elementary school kids, and the other two were both that Friday and Saturday at 7 pm.
There will be one more West production for the 2015/2016, which is "Pyrates!" This play will be shown April 7-9. Davies was satisfied with the play overall, "It was pretty successful. The first night was a little rough, but we got it together. We packed the house for most of the night shows, so it was pretty good."