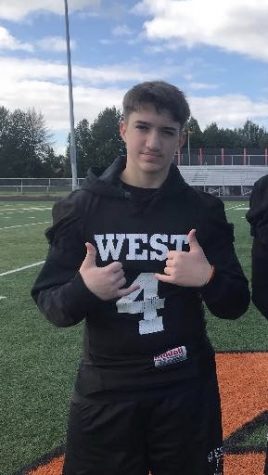 Aiden Roddy is a Junior at West Anchorage High School. Roddy was born in Brisbane, Australia, but currently lives in Anchorage, Alaska. Roddy's love and passion is football. Roddy started playing football in the third grade, and ever since has been in love with it. His favorite football team is the Green Bay Packers.
Roddy's favorite subjects in school are Weight Training and English. He likes Weight Training because he feels like it's a great opportunity, and an opportunity to become stronger and bigger for football. Roddy likes English because he likes expressing his thoughts and his mind through writing, and he feels like English teachers are more caring, and has a better connection with him.
Roddy's goals are to graduate with above a 3.6 G.P.A , and to play college football. Roddy feels like graduating high school with a 3.6 G.P.A is a high accomplishment, and would set a good standard for his younger siblings. He feels like with them having a standard then they would strive more to better in school. College football has been Roddy's dream since he was a young boy, as he just wants the opportunity to play more football.
Aiden Roddy, Reporter
Feb 11, 2020

After School Workouts

(Story)

Jan 30, 2020

2020 West Winter Hoops

(Story)

Nov 11, 2019

Dress Code Debate

(Story)