The Wrestling Grind
Wrestling is one of the hardest sports, in which you have to be strong and flexible to make sure you defeat your opponents.
Thaddeus Williams and Andres Hernandez are freshmen wrestlers who have been wrestling since middle school. They are both dedicated to wrestling and when asked what their favorite parts of wrestling, both concluded: the "grind".
"[It's] the number of hours you put in, all the work that you have to do to win," Williams responded when asked what the "grind" is. Williams is all about pushing his body to the limits and tries to work out every day so that he is fit and ready to take on his next opponent. Practices are very difficult, including both cardio and studying the dynamics of certain moves. Williams has competed in most of the tournaments usually placing first or second. Williams is currently "grinding" to become the best in his weight class and hopes to get to the first place position very soon.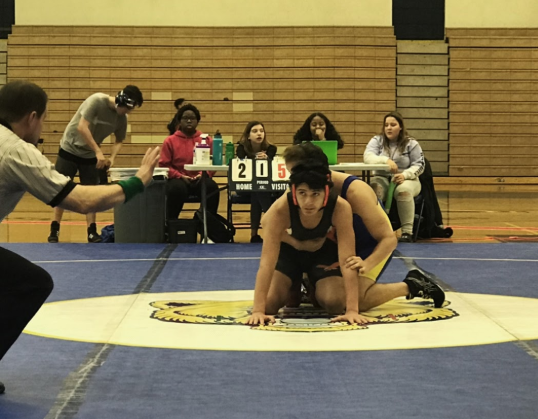 Hernandez is much the same, having won all of his matches so far this season. When asked why he like wrestling, Hernandez responded, "It's like controlled violence basically. I think it's fun but I definitely don't condone hurting people." Hernandez likes the hard work involved with wrestling and pushes himself daily to get to the top of his game, to get to the top of his weight class and to defend his title. His favorite move is the Quarter Nelson, defeating most of his opponents with it. Hernandez loves wrestling but wouldn't have started without the nudge he received from Mr. Elfstrom.
Both Williams and Hernandez plan on staying in the West wrestling program throughout their high school careers.
While freshman wrestlers are important, we can't forget about the sophomores involved in West High wrestling. Israel Garcia just moved to Anchorage from Arizona and decided to rejoin wrestling once here. Garcia does wrestling for the hard work involved and wants to stay in great shape. It is a lot of fun for him and he's very much dedicated to the aforementioned "grind".
Garcia is a phenomenal wrestler, placing first in one of the many tournaments that he's been to and plans to keep winning. He dominates his weight class with the fireman carry. "It's basically where you shoot into and inside single and then flip them over on their back," he explains.
All other schools should watch out as West High has the hardest working wrestlers in the ASD. All wrestlers are dedicated to the "grind" and the hard work dedication and hours you have to put in. Thadeus Williams, Andres Hernandez and Israel Garcia are going to win their weight classes. Please come support our West High wrestlers. If you would like to come to any of the meets, look on the West High wrestling schedule.