Track & Field is Going Fast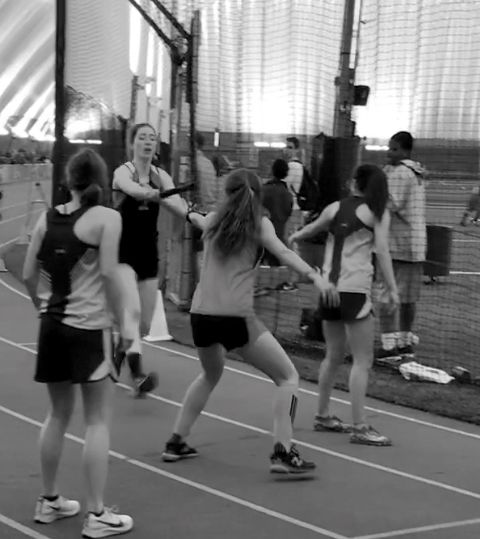 Teddy Bahr & Afton Cy, Reporter
April 18, 2019
Spring sports season is in full effect, and West Track and Field is back in action. From sprinting to distance, jumping to discus, West student athletes have already competed in multiple meets and continue to have practice every day of the school week. Under the supervision of head coach Antonio Wyche, athletes are preparing for regions and hoping to set personal records that will qualify them for state.
Meets have been held exclusively in the dome until now, as the snow clears meets and practices are moving outside. Track & Field is without a doubt one if not the most diverse sport, in the school, sporting athletes of different events, races, ages, and skill levels. Both coaches and athletes are united by a love for the competition and relationships provided by the track season, as they will tell you.
Ruth Barndt is the distance coach, and has been coaching Track & Field at West for more than over 15 years. She states that at practice, "we run, we run every day, at least three miles every day for distance kids". That seems like a lot, but the results are impressive as West has a state qualifiers in almost every distance event and strong distance relay teams.
Coach Ruth has been working together with Coach Antonio to try and bring a greater team spirit to the track and field team, as the groups often work independently of each other, and start to dissociate. She coordinates spaghetti feeds and team wide core workouts at the end of practice. She finds herself drawn to coaching distance because she loves the drive and determination it takes to excel in the sport, and feels great joy from watching those traits develop in new athletes.
Marina Henao is junior exchange student from Spain who was persuaded to join track and field by her friends. She decided to be a distance runner, because she thought it would be the least intense activity, but soon found out it was quite the opposite. She still loves the team, stating "I love track and field, everybody is super nice!".
Her events include the 4×400 meter relay, the 800-meter, and the 1600-meter. Henao is tempted to try new events, however thinks that they all look really hard and scary, but she will eventually be forced by her friends to try them.
Luis Perrero is a sprinter on the Track & Field team, who's times qualify him as an elite runner. Perrero likes Track, and states that, "It's a good sport for improving your speed even if you do other sports". His events are the 100 and the 200, as well as their subsequent relay teams, and Perrero often is the anchor, or last runner in the group of four.
Perrero doesn't mind all the conditioning as long as it helps him become a faster sprinter, he is strongly against any distance workouts. He believes that he will continue his track and field career, but is not sure due to the frequent changes in coaching staff, he sometimes feels like "all the coaches just come and go". However; he does intend to finish out the season and represent west in the Region's and hopefully the state meet.
Track and field are one of the most ancient and most-respected athletic displays of determination and ability. The season has already had its highs and lows, like running a meet in a freaking blizzard, but hopes are high for state. Where the athletes from various events come together to compete against other schools and prove that West side is the best side, unless it's in a freaking blizzard.