West Varsity Cheerleaders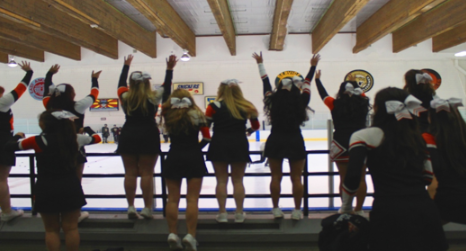 Tryout day was a struggle for both Coach Katrina Quinn and Coach Jessica Sedlacek. This year was estimated as the most girls that have tried out in years for both hockey and basketball cheer. This year, the coaches have decided to put both hockey and basketball cheer together so that if you are set to doing basketball cheer, you would also be doing hockey cheer as well. So many girls have tried out that the coaches have decided to make a JV squad, which is something they haven't done in a while.
With the first hockey game on October 25th, against Service High, the girls have worked hard during practices to get their cheers on point. Shalae Dunbar is a first-year cheerleader who made Varsity. The most important thing that makes a team successful to her is partnership and teamwork. Dunbar states, "Yes, cheerleaders should be treated as athletes because it's harder than it looks." She can't wait to continue this journey with cheer and will want to continue until her senior year.
Adaira Gordon's definition of a cheerleader is, "someone who can have a good positive attitude about an outcome of a game whether it's good or bad and someone who is just energetic." Gordon has been doing cheer for almost nine to 10 years. Her experience has got her to be a varsity cheerleader here at West. Gordon cheers for West because she thinks it is a great school that has very good values. Gordon states that she wants to encourage girls to try again if they don't pass tryouts. You will be able to spot Gordon cheering for Varsity games with her best qualities which are her "having a good smile and being very loud."
This is Nivionna Branigan's first year joining cheer. She has been dancing for about eight years. Her passion in dancing has made her join both dance and try out for cheer. She says, "I joined cheer for the experience." Branigan explains that the hardest thing about cheer is remembering the calls. Her goal is to be one of the best leaders on the cheer squad. Branigan had some tips for the girls who don't make the squad and says, "try out again next year to your best abilities and keep practicing." Branigan says that she will continue cheering until her senior year and can't wait to progress her skills as a dancer.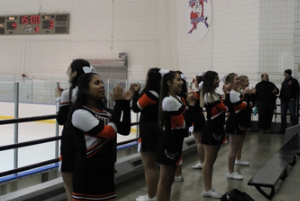 Despite losing the game five to six, the cheer team still had smiles on their faces. Cheerleaders are sometimes viewed as girls who sit pretty and do nothing but cheer, but people don't realize that without cheerleaders there would be silence in the stands and few people cheering the team on. With the cheerleaders, you have over 10 girls with pom-poms and smiles, saying chants every chance they get so they can keep the crowd and team alive. The team playing can hear the cheers and it can create a motivation to the player and with the crowd joining the cheerleaders, all of West side would be filled with spirit all because a group of girls came together to create an atmosphere filled with spirit.