Life Lessons from Frank Mendoza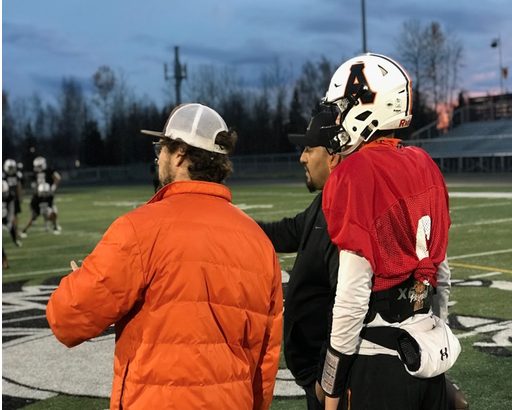 What is a mentor? A mentor is known as a trusted adult adviser that kids go to in times of need. For many Anchorage kids, Francisco "Frank" Mendoza is someone they call a mentor.
Known by most people as "Coach", or the father of West Eagles Koko and Bubba, Mendoza grew up in the mean streets of Salinas, California in a gang-oriented household. At a young age, Mendoza thought he was destined for a life of crime. "I never wanted to be a gangster, I was just really good at it; I could lead others and in a gang that's a very powerful trait," said Mendoza.
When Mendoza's life seemed to be going nowhere, a mentor stepped up to show him his value beyond being a criminal. Bobby Cobarruvias, a counselor and football coach, overlooked Mendoza's thuggish ways and treated him like a man; he showed Mendoza that he had value beyond gang life.
Although Mendoza was difficult to deal with as a teen, that didn't stop Coborruvias from trying. As time went by, they would build a relationship that went beyond the classroom and football field. He taught Mendoza about accountability, dependability, responsibility and to lead by example, not simply by fear. Mendoza has taken what he learned from Coborruvias, and is passing it on to kids at West. Being a father and a football coach, the roles are different for Mendoza.  Sometimes he's a guy that gives advice, a listener, other times he's just there as someone to talk and laugh with. Mendoza has had a big impact on Eagles such as Joel Martinez, Niko Fa'amasino and his own sons, Bubba Mendoza and Koko Ortiz.
Martinez, a senior, has picked up a few things by being around Mendoza. "If it wasn't for him, I wouldn't have been able to play football. I have learned a lot of life lessons from being around him; he taught me to be patient and analyze things before reacting, and that these things that are going to help me in the future," says Martinez.
Fa'amasino hasn't been around long, but Mendoza has had quite an impact on his life. Mendoza worked with Fa'amasino, a junior, during the football season. "When I first met him, I was like 'ah man I feel like I wouldn't like this guy', but as we got to know each other more we became close. It's a great bond," said Fa'amasino.
Although Ortiz is family, the high expectations are no different. Mendoza expects him to work hard and lead by example on and off the field. Ortiz is like his father when they play football; when Ortiz messes up, he has a coach's input so he can recognize his mistakes on the field.
There is no doubt the relationships between Mendoza and the young people he mentors is not just about football, but preparing young adults to become leaders in the future.