Football: More Than "A" Game
On Friday, October 23, 2015 at 7 PM, West High School earned their third title when they slaughtered Chugiak High School 41-0 on their home field for the final game of the season, which determined the champions for the year 2015. Although the win seemed effortless, the fans do not realize that an estimated 625 hours of practice and training was done to be where they are at today.
On September 4, 2015, the Eagles lost to the Mustangs when Chugiak's quarterback Ben Stewart made the pass that increased their lead 28-21, according to Alaska Dispatch News.
Knowing that they lost to Chugiak, that encouraged the varsity Eagles to putting all their time and effort into this last game. However, the players were given the mindset to not put all their attention on what was on the scoreboard.
According to head coach Timothy Davis, although the main purpose was to win the play, there was more to the numbers shown on the scoreboard. "It feels good to win, and it's a great feeling, but that feeling goes away pretty fast after that scoreboard turns off, and what really continues to go on is the social and emotional skills kids develop playing this sport, [like] learning how to be leaders and how to be servants in the community."
The varsity football players came in for practice every day after school for approximately five hours while keeping up with their schoolwork.
Wide receiver and safety Darian Lawson broke his wrist during the season, but that did not stop him from completing his work and attending practices with his team, letting his final season end remarkably with the championship title.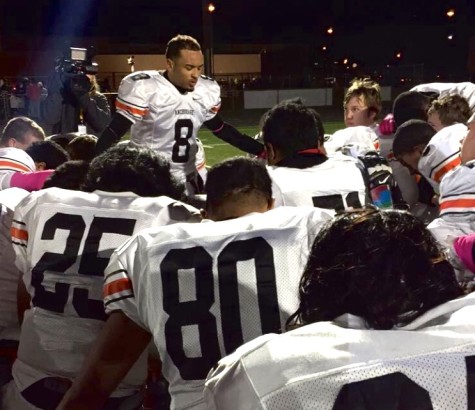 Lawson says, "Football has been a really good growth experience for me… I take AP and IB classes here at West, and football has given me the support and the pride to become a student athlete. Being an athlete is a big thing, but being a student athlete is definitely the biggest part in football in general. You have to be a student to be able to excel on the field."
Senior quarterback Sean Duffy states that throughout his experience from this football season, he learned that Coach Davis helps the players on and off the field. "I wasn't the best leader last year, but I learned to lead my team especially being the quarterback as a senior," Duffy says.
Coach Davis emphasizes that the boys he coaches are still learning and growing, and that football is their last stop before manhood. "The big thing that I've grown to realize is to not belittle the athletes that I coach, but to understand that I coach guys that look big – they look like adults – but deep down my students are still kids," he says.
"I need to have high expectations of the students… but they're still kids, and I want to help them learn from their mistakes and grow when they become adults outside of this building."