It's Finally Here: Our New Library!
The West/Romig Library has been a significant part of West Anchorage High School since its initial construction in 1972. With study areas, computers, and a plethora of books, it has always been the perfect place for people to go to study, read, or even just hang out with friends.
It was a bustling center of student life for years until one Sunday in late January of 2016. A magnitude 7.1 earthquake hit Alaska around 1:30 a.m., its effects being felt from Juneau to Fairbanks. It caused significant damage to the city of Anchorage and the library was hit hard.
Staci Cox, the head librarian, says that when she initially heard of the earthquake, "I immediately texted Mr. Gustafson and said, 'I wonder how bad the library is.' I had a feeling we had suffered damage for sure."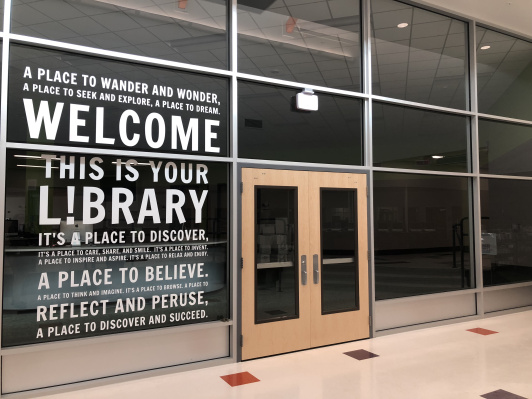 West and Romig were some of the buildings that sustained damage, and the library in particular was in bad shape. Ceiling tiles and books littered the floor, and exposed vents caused problems for those trying to work.
When Anchorage was hit by the earthquake, it disrupted many students' and teachers' lives at school. Because the library had to close for reconstruction, students were unable to print assignments, finish projects, or hang out there at lunch. A new room across the school, attached to the cafeteria, was opened to house computers and some of the library's books, but its small size made it difficult to use.
Hannah Cho, a 17-year-old senior here at West, says, "I had to make adjustments, and print things at home… I would have to make sure I had everything before I came to school, so it was a big inconvenience."
Before the earthquake in 2016, the library had a similar layout, but unfortunately, its design was quite dated. Other departments such as counseling shared the space, leaving less room for library-related activities. Bright orange shelving, wood paneling, and a complete lack of windows made it seem smaller as well.
The reconstruction of the West/Romig library began immediately after the earthquake. Initially, the staff was evicted for a month so workers could clear the space of broken ceiling tiles and inspect it for other safety issues. The bond to begin reconstruction passed after about a year, and from the beginning of demolition in June 2017 to the initial move-in in late April of 2018, the construction took a little less than a year to complete.
Now, the library has an open layout, more areas to sit and read, updated shelving, and several study rooms. These study rooms are a student favorite; Sharon Song, a 16-year old senior, says "I like using the library now because the study rooms are really helpful, and although it's in the library and it's quiet, having it sectioned off prevents distractions and helps me focus."
Both West and Romig students and staff have benefited greatly from the reconstruction of the library. People consider it a center of school life because of its vast amount of resources, easy access, calm atmosphere, and many uses. Cox says, "We're loving the new space… the kids have been really receptive to it. Everyone has a lot of positive comments and we are just grateful and thrilled."