Tim Davis Profile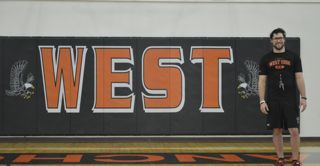 This is a tale of one of the most outstanding personalities ever to set foot in the history of West Anchorage High School. He has been here at West for seven years now and is the head football and baseball coach of the West High Athletics Department. He has the body of a wrestler and the face of a Greek god. He is none other than, Coach Tim Davis.
Varsity baseball player, Wilton Farmwald, admires Coach Davis' coaching philosophy. Moreover, Mr. Davis does not just coach to make players better but also to build a man of character and empathy. Wilton said, "He coaches his team not just to win but also teaches them the importance of teamwork and how to go through the tough times and hardships of life." In addition, he is a super energetic machine. He sometimes comes to school as early as 6 a.m. and leaves as late as 8 p.m. "He's a super freak! I don't know where he gets all this energy!" Wilton says.
Sean Duffy, varsity football and baseball player said, "He is a really good coach." He likes to work out a lot and likes his caffeine. According to Sean, the most unique thing about Coach Davis is that he is never in a bad mood when it comes to coaching. In fact, he makes practices more interesting with his positive attitude. Sean also said, "No matter which sport it is, he always takes the correct and the most decisive approach that suits the team the best."
Coach Davis' personality, energy and charisma motivate athletes to achieve their goals. Both Sean and Wilton think very highly about Mr. Davis. Here's what the man himself has to say.
His humble and modest answer is, "I love my job and I have a great surge of motivation for it." He loves his students and helps them through all their problems, joys and success. One of his great sayings is, "If you love something, you tend to have a passion to do it. Whether it's a sport or a relationship, you find the energy for it."
Coach Davis also runs marathons has also been a snowboarding coach. He is the perfect example of pushing yourself to the limits!
According to himself, the most unique thing is the amount of things that he is blessed to be able to do. "It is a gift." Coach says he loves what he does, loves what he wants to do and most importantly, he has the determination to do it.
In his free time, he works out and plays video games. He learns about new techniques in different sports. Coach learns about how to have the most efficiency and makes sure that his team is nothing but the best.
Coach Davis plans to be at West for as long as he can think of. West is his love. West is his home.