Winnie The Pooh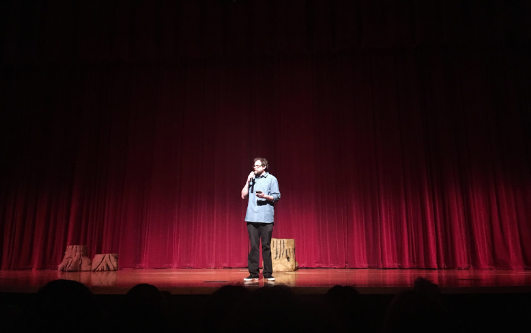 This November, the West Anchorage High School theatre program put on a wonderful production of the timeless classic Winnie the Pooh. Led by Rees Miller, the theatre director, the play was about the mischief that the main character Pooh and his friends get into after meeting Kanga and her son Roo who have just moved to the forest.
Miller has been theatre director here at West for two years, and previously he was scenic designer for around two years as well. His main role is to organize and direct the actors, tech crew members, designers, and others who are involved with a production.
Although the theatre program has a great reputation for its musicals, Miller chose to show Winnie the Pooh this year because he wanted to try something new. He decided on this production because it was a non-musical that he also knew would be appealing to younger and older audiences alike.
As much as Miller loves theatre, he says that it is extremely challenging to manage everyone's time and create a functional schedule for rehearsals, scene production, costume design, and more. In fact, this year he will be stepping down as theatre director. West sophomore Asya Gipson says, "Miller is amazing. He's a great teacher, and it's going to be tough to see him go, and it's going to be interesting to see what happens next."
While Miller played one of the most important roles in the production of this play, his cast was what brought Winnie the Pooh together. The main character, Winnie the Pooh, was played by Gipson. This was her first ever production with the theatre program, but she was in Miller's Play Productions class last year and thought it might be fun to audition for a play.
Although the cast was what the audience applauded for, there were so many other people who contributed to this production; the tech crew, costume designers, and other behind-the-scenes people worked hard to make this play perfect. Two sophomores, Anna Bierma and Erin Lawlor, worked the box office this year for Winnie the Pooh, which they said was a great time. After selling tickets for around the first 20 minutes, they had the chance to see it themselves, which they were both excited for. As Bierma said, "I love how creative costume designers are, and I think the costumes are going to be really cool."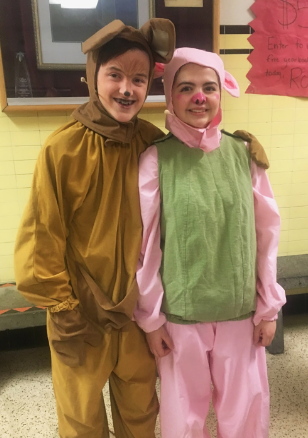 The play showed for three days, with two showings during the day on November 1 and 2 for children from other schools. The audience was dynamic, laughing along with Pooh and his companions as the actors performed on stage. After the show, the cast had the chance to interact with audience members who showered them with flowers and compliments.
Although Miller is stepping down as director this year, theatre will continue to be an important program for students at West. As Miller says, "the arts are a little different, they come from a different place, and when people approach them, it's personal. So, I really enjoy educating something that's personally their own, that they build and culture and nurture themselves."