DanceWest Program
DanceWest program is a trademark in West Anchorage. It was first run by Lori Bradford, who had been running DanceWest for almost 27 years, but in 2016, Bradford retired and handed the program to the new teacher and choreographer, IreneRose Antonio.
Antonio has been teaching dance for about 10 years, but this is her second year running and teaching the DanceWest program after Bradford's retirement in 2016. The DanceWest program has progressed every show as they build shows based around a theme and they now include more video elements into every show. Antonio has run the last two shows and she is currently working on the next DanceWest show called "Believe" which is set to be performed on 14th & 15th of December.
Antonio says, "Believe is based around a theme, a Christmas theme and also a message of having confidence and hope in yourself."  Antonio hopes to inspire everyone when they see "Believe" and light up with joy while watching the show, as she states that there's a message behind the upcoming show. Antonio wants students to try hard and commit on everything they do and they will succeed if you put in the full effort and experience the joy of performing in front of people.
Antonio's favorite part about teaching is seeing her students show their confidence in performance. She hopes every student tries to dance and become successful when they're older and have a learning experience from dance. Antonio says her dance studio is a "no judgement zone" at all times.
Antonio choreographs for every show and performance but she couldn't do that all without the help of the student choreographers. 17-year-old West student and choreographer, Erica Quiett, is choreographing for the show "Believe" this December. Quiett has been dancing since was eight years old and ever since then she started choreographing for the DanceWest program and learned more techniques from Dance.
Quiett says, "DanceWest is like a family, and everyone is just so unique and it's amazing to see everyone just learn about dance." Quiett's type of style for choreographing is more ballet and contemporary as she says, "I like to find a piece that she enjoys and just choreograph and go from there." Quiett is working with Antonio for her performance for the "Believe" show and the performance has hope and inspiring messages into the choreograph and she hopes to inspire people who watch her performance with her dance at the show. Quiett enjoys working with Antonio and she hopes to work with her after she graduates high school next year.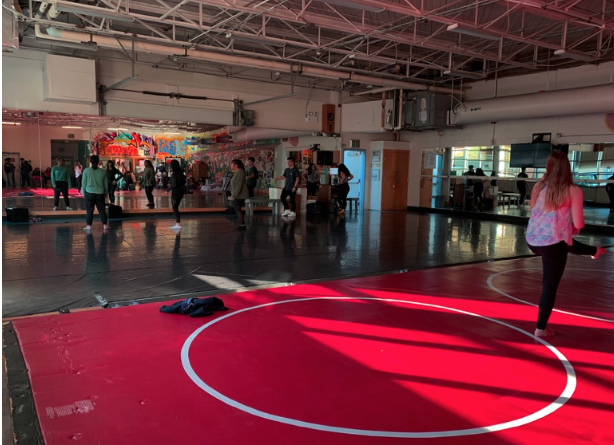 The week before every show, Antonio puts on a full week of rehearsals called Tech Week. Antonio works on lighting, video, and finalizes the props for the show to be ready the day of the performance but she has extra help from the DanceWest Tech Crew who help her get the show ready on the day of the show. Joanne Pastor-Encabo is currently helping Antonio for the upcoming show "Believe" in December including 30 other West students who have joined Antonio's seventh period. Encabo says, "I regret not joining Tech Crew earlier when I was a freshman, it's like a new world for me."
Encabo enjoys working with everyone in Tech Crew and Antonio as she says, "Irene really makes the environment safe for everyone who joins and the experience is always great when you join." Seventh hour has jobs like, music mixing, videography, choreograph for the show. Encabo is currently working on her video project for the upcoming show as she named the project "Behind the Scenes" that shows 10-minute footage of every art programs including Choir, Band, Orchestra, Dance and Theater in West Anchorage High School and their struggles and experience on every performance they put on for West.
Update: Due to the magnitude 7.0 November 30th earthquake, the "Believe" show has been cancelled. Look for the next DanceWest show in April 2019.