Yak and Yeti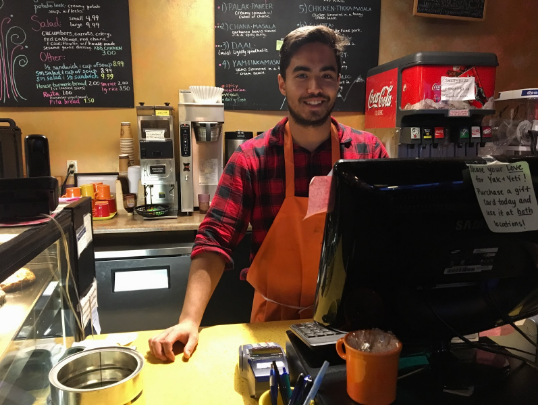 A small piece of the Himalayas resides where it is least expected: in the heart of Spenard, Alaska. Yak and Yeti Himalayan Restaurant has been family owned and operated since 2008 and has two locations: a sit-down restaurant on Spenard Road and a quick service cafe on Northern Lights, which opened in 2012. The cafe shares a strip mall with REI and sits just down the street from the original Himalayan restaurant. Both establishments provide a unique blend of Indian, Nepalese and Tibetan flavors.
Both Yak and Yeti restaurants are owned by Lobsang Dorjee and his wife, Suzanne Hull. Dorjee was born and raised in India but has strong roots in Nepal. The couple is on a mission to share authentic cuisine from the Himalayan region and share the adventurous dishes they have to offer.
Yak and Yeti prides itself on housing an uncommon flair unlike many other restaurants in Anchorage. Nora Clark, a hostess at the Yak and Yeti cafe, supports that ideology and is proud of how they stand out among the crowd. "It might be the only Himalayan restaurant in town, I know that there is a lot of Indian restaurants but this is a larger [geographical area] that it covers," she boasted.
Both Yak and Yeti locations maintain a comfortable atmosphere where customers can come and relax while they enjoy their meal. Charlotte Smith, 17, is a regular at both locations. "I like the one on Spenard best because they have a good atmosphere. It's a really good place to go and chill and hang out with friends." Levi Davies, 17, prefers the sit-down restaurant to the quick service as well. He says, "Even though it's a small place it's cozy and warm." The cafe serves as a popular meeting spot for many clubs and friends alike.
Another interesting feature about Yak and Yeti is their wide variety of dishes that cater to every palate. Clark's favorite dish is a combination rice bowl with Tikka Masala and Chana Masala. "I'm a vegetarian, so I really like all of our vegetarian options," she explained. Smith is also a vegetarian, and one of her favorite options at the cafe is the potato onion soup. She says, "It's very creamy and warm; perfect on a winter day." Davies may not care for the vegetarian options as much, but he is a fanatic about the authentic bread served at both restaurants. "The nan bread is amazing," he said.
The sit-down Yak and Yeti location seems to be the most popular out of the two locations, with four stars on Yelp out of 122 reviews, as opposed to the cafe, with three and a half stars and only 49 reviews. Without a doubt, both bring exciting new flavors to the Spenard neighborhood and help create an exotic edge. The only way to discover your favorite location is to get out and taste the adventure yourself.