Solo & Ensemble
Solo & Ensemble Music Festival is a two day event at the University of Alaska, Anchorage in which students in Alaska can play a solo or ensemble of their choice for an adjudicator.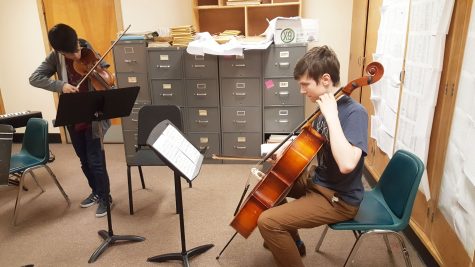 According to the Anchorage School District website, Solo & Ensemble Music Festival lets students "make their own musical choices and to be evaluated and recognized apart from their school music classes". Whereas the Alaska School Activities Association (ASAA) states that it strives to "foster and inspire technical achievement, aesthetic understanding and critical listening skills". West Anchorage High School takes a different look on the event as they are required to have a teacher's approval before entering the competition. This can be nerve racking for some, but others think of this as more of a educational challenge.
West sophomore and viola, Aieleen Kim, views Solo & Ensemble as "a great opportunity for string players to play together as an ensemble." When asked how this event affects people, Kim answered, "It brings people [to] play music together and it bonds people musically." As a four year violist player, she stated that it was her third year participating in the festival and is competing in a solo, quintet, and quartet this year. Her love for playing the viola led her to also play the violin as well.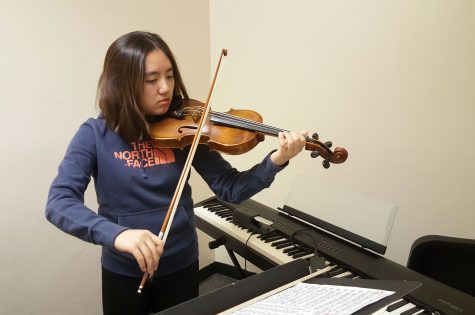 West junior, Vincent Cerna is a six-year violin player in the West Symphonic Orchestra. Cerna had decided that he is not participating in the event as "nobody wants to partner up with me for Solo & Ensemble." He firmly believes that it is "a waste of time, but fun" as he had been in it in middle school. Cerna explains that "Solo and Ensemble is a great idea [and] I regret so much for not being able to take it as a junior."  
West sophomore, Hannah Cho is a violinist in the West Symphonic Orchestra. Cho is competing in Solo & Ensemble with the piece "Alla Turca" by Wolfgang Amadeus Mozart. She said, "Solo & Ensemble seemed like a great chance to play with your friends or play by yourself […] I'm personally doing a duet though." When asked why she had decided to do Solo & Ensemble, she said, "My teacher was offering extra credit points and my best friend wanted me to do it." She concluded that participating in the festival makes another great addition to college applications.
Go support your fellow West musical peers at the University of Alaska, Anchorage this Saturday!