Hockey Tournament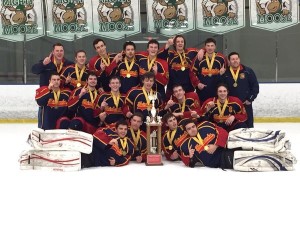 The Subway Sports Centre was standing room only this past weekend during the 2015 Alaska Midget Tier II State Hockey Tournament. All five midget tier II teams throughout Alaska showed up to participate in this tournament. Including the North Stars, Arctic Lions, Alaska All-Stars, South-Central Alaska Wolves, and the Jr. Avalanche.
All five these teams are after one thing. They all want to win the sweet title of being state champions. Though only one team can take the state champion title, the top two teams in state the state tournament represent Alaska at the National Hockey Tournament in Troy, Michigan. According to devoted hockey fan Kyla Jones, "The AHA North Stars are the favored team to win first place in state this year followed by the Alaska All-Stars in the second place seed."
For the most part, the AHA North Stars did live up to their reputation. They earned 13 points, which was enough to put them in the first place spot going into the state championship game. Instead of playing the Alaska All-Stars in the Championship game, the North Stars found themselves playing against the Arctic Lions from Fairbanks who had a total of 10 points. When asking about how his team felt going into the championship game, North Star defenseman JV Baldauf said, "For the most part I think we feel pretty confident mainly because our team went undefeated all season." The championship game was scheduled for Sunday afternoon at 2:00pm.
The level of play between the North Stars and the Arctic Lions was evenly matched according to spectator Brandon Vukasin. The score was tied 0-0 after the first period. Stoshie Skorulski, of the Arctic Lions scored the first goal of the game. Followed by two back-to-back goals for the North Stars scored by Tyler Millar. The second period ended with the Arctic Lions trailing the North Stars 1-2. In the third and final period of the game, the Arctic Lions were able to tie the game up 2-2. The goal was scored in the middle of the third period by Logan Arpino.
Once the third period ended the scored was tied 2-2 meaning this game was going into overtime. The Arctic Lions seemed to dominate the level of play over the North Stars. Within the first five minutes of overtime, Stoshie Skorulski scored the winning goal for the Arctic Lions. Making the final score of the game 3-2.
About the Contributor
Katie Shake, Reporter
Katie Shake was born in Anchorage, Alaska on February 8th, 1997. She has lived in Alaska her whole life and is now a senior here at West High. Her older...