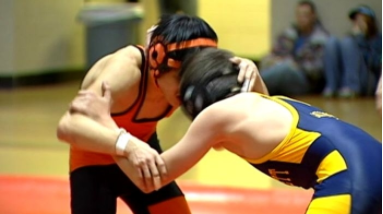 Hot sweaty men and woman forcefully grabbing each other for long periods of times until one person is fully pinned on their back.
This is wrestling.
Wrestling is the sport of grappling with an opponent and trying to throw or hold them down on the ground. There are many sports that get you into shape, but nothing like the vigorous workouts and strict diet that comes with wrestling. "You'll be in the best shape of your life," West Anchorage High School Wrestling Coach, Daniel Rawlings, said.
Wrestling is a difficult sport. On average, half of the people who join will eventually quit by the end of the season. "It seems like a tough sport," says student Christian Wilson.
West Anchorage High School wrestling started on October 30th, 2013, but it's not too late to sign up. Forms can be found easily at the activities office. "Come out and wrestle" said coach Rawlings. There is a lot to look forward to this wrestling season after the success the team had last year.
"We were a good team last year," West wrestler, Michael Grey Levine, said. "We had lots of good wrestlers," he says, referring back to the 3rd place finish in the Cook Inlet Conference last year.
According to Coach Rawlings, "West is going to have a good wrestling team."
Wrestling isn't just for boys. Last year, West had eight girls on the wrestling team. Not only that but they won the Girls Championship in Alaska.
There are a lot of opportunities in being a wrestler. West has four wrestlers who are wrestling at the college level. Being a wrestler is a special thing. "They are a bunch of well-respected young men and women," says Christian. "It takes a true athlete to play this sport."
Even though the program's budget is tight, the wrestling team is planning to go Nikiski, Fairbanks, Unalakleet, Mat-Su Valley, and around the Anchorage area this year. Also, at the end of the season the whole wrestling team takes two trips, one to watch the Alaska Fighting Championships and another to Golden Corral for the yearly all-you-can-eat wrestling banquet.
If you have ever thought about participating in mixed martial arts, wrestling is used to develop a fundamental part of the sport: a ground game. A ground game refers to grappling that eventually ends with two people on the ground. "If you ever get into a fight, you will know what to do," said Christian. "It is a great way to learn self defense".
Everyone is welcomed to join wrestling at West. It is a sport that teaches you about yourself. "It is your decision to be strong or not. Not just physically, but mentally and emotionally to," Christian says. "In the end, it is the strong people who put their blood sweat and tears onto those wrestling mats who comes out on top."