One of West's Best Moves on: Goodbye to Mr. G
West High students, staff and parents will have noticed a change-up in the administration over the last few weeks, as two principals have changed jobs. 
After a little more than five years as West High's head principal, Mr. Sven Gustafson has moved into a new role as Chief Academic Officer of the Anchorage School District, beginning in November 2022. Ja Dorris, former activities principal, is the acting head principal and Social Studies teacher Kelsey Romig has stepped into the activities principal role. 
Gustafson's move to ASD headquarters comes after nearly 30 years in education as an administrator or teacher in math, science, and technology in Anchorage, as well as Togiak and Dillingham, where he is from. 
"[The West Anchorage area] is where I've had my whole career, pretty much. I've loved being in that community," Gustafson said. "So it was a big decision for me to apply for something bigger." 
What will he miss most about West High? "The students and staff," Gustafson wrote in an email. "I already miss everyone." Over the last few years there has been much change in staffing, particularly at the building administrative level. Gustafson has remained in the head principal position throughout, and has been a constant source of leadership for staff and students.
In his new role, Gustafson will oversee and contribute to the design of all academics in the ASD, from Pre-K to grade 12, as one of five department chiefs that work with the superintendent. 
"I decided to move into the new role as I feel I can bring a fresh perspective on academics in ASD," Gustafson said about the move.
"I want people to work together," Gustafson said of his hopes in the new role. "Not just work harder or faster, but smarter and together." At the forefront of his mission, Gustafson wants to remember to do whatever is necessary to make sure students in ASD thrive in all aspects, including at West High.
As interim principal, Dorris will be running West for the remainder of the 2022-2023 school year, after which time the position will be opened up to other applicants. Of Gustafson's departure, Dorris said: "For him, I think this felt like home… but [Gustafson] is going to be able to do bigger and better things at the district level."
What does Gustafson consider to be among his greatest achievements at West? "If I was to say one 'thing'," he wrote, "it would probably be the resurrection of the Alaska Airlines Classic." The basketball event was near cancellation when Gustafson arrived at West.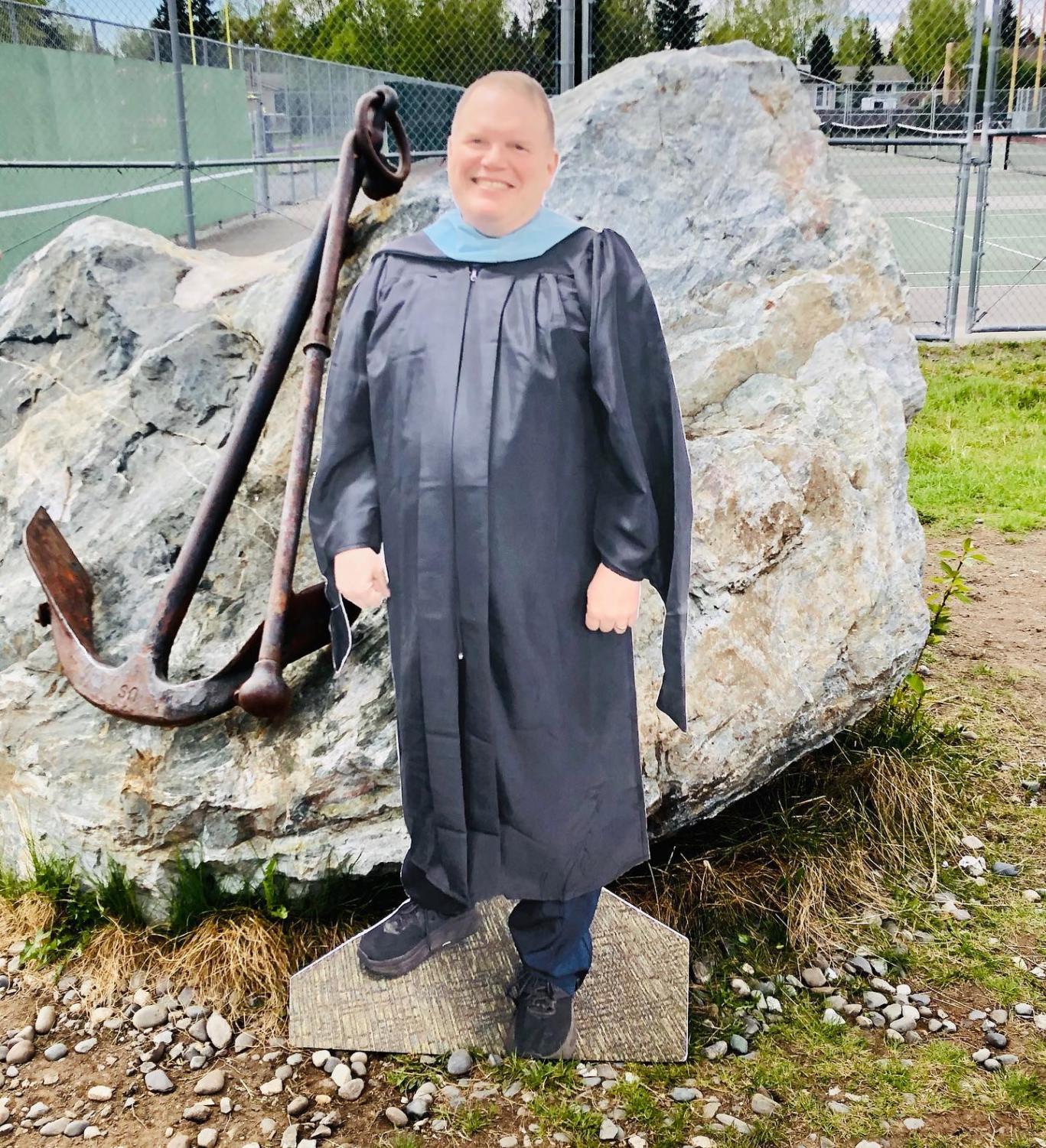 Gustafson also notes, however, that "I don't like to take credit for anything, as West High has such an amazing staff, student body, and parent group."
From the 2018 earthquake, to the global pandemic to West's reception of the NFHS Performing Arts School of Excellence Award in 2022, Gustafson has led West through hardships and triumphs, and many aspects have contributed to his success as an administrator and educator.
"Mr. G always puts relationships first," said Curriculum Principal Cindy Chaput. "He has always championed individuals first, before anything else."
Teacher Shannon Hendricks recounted Nov. 30, 2018 following the 7.0 earthquake: "[Gustafson] knew I had children and he was like, 'Where are your kids? Have you checked on your kids?'"
Temperance Tinker Kays, recipient of the National Milken Educator Award in April 2022, said "he was a leader who truly listened."
Teacher Kevin Lynch noted that "Mr. G had a knack for working with people in a really friendly way. He could be an administrator; a principal without coming across as being the boss." 
The educators' testaments are just a few examples of Gustafson exemplifying attributes of West High School, of which Gustafson considers the most valuable aspects to be "relationships, community, and culture."
As well as being deeply committed to community, Gustafson is also a smart leader. "When he sees excellence happening, he doesn't want to tinker," said Sven Berglund, long-time science and CTE teacher. "He just knows how to keep a good thing going." In a cunning analogy, Berglund likened West to a fire, explaining that Gustafson does not dampen or intensify the flames, but keeps them steady.
Whether a greeting in the foyer or cheering at a volleyball game, "Gustafson was always there—so visible and active,"  Romig said. "He interacts one-on-one with kids and encourages them. I've seen him bring them into the office just to check in on them and grades and things… he takes kids under his wing."
Gustafson exudes West spirit through his personal connections with students and staff, his down-to-earth friendliness, and his perceptive, supportive leadership style. 
"The West Spirit? Anyone who's going above and beyond," said Gustafson.
West High thanks Mr. G for his time and dedication, and wishes him good luck in his new, well-deserved role.
Leave a Comment