The Next Move: Chess Club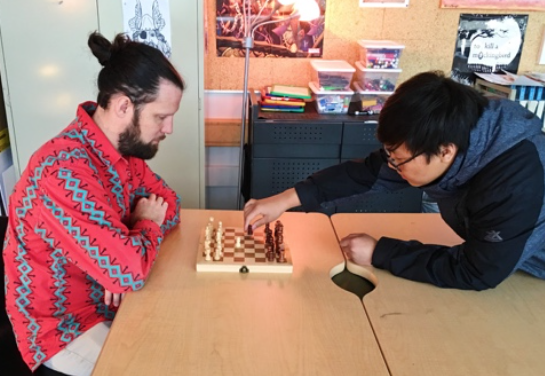 Hang on for a minute...we're trying to find some more stories you might like.
Adam Mackie is an English teacher who sponsors the Chess Club, which is held in room twelve during lunch on Wednesday. Mackie has taught at West High for two years since spring of 2016. When Mackie arrived at West, Chess Club was sponsored by Mr. David Vano. Mackie, who had an interest in sponsoring a club and likes chess, collaborated with the president of the Chess Club and moved things to his room and moved the chess boards as well.
The game of chess inspires Mackie. "I love the aesthetic of the game just the positive, negative space and the dark and light dynamic of the game and just the poetic possibilities. I mean it's really a game has yeah know so many possibilities and the way it forces you to think outside the box, but within the box. So, to speak because it's all squares at the same time, also its pretty great."
Mackie believes what people get out of chess is the community and relationship. It's a game with intimacy to the game and it's a sort of a one on one situation with a conversation of silence, a conversation that doesn't rely on any words. The game of chess does give an intellectual benefit as he believes that it forces the person to problem solve and resolve situations, either your attacking, capturing an opponent's piece, or you' re trying not to prevent your own pieces on being captured.
Mackie doesn't know if chess has a direct correlation with I.Q, Mackie replied, "I have no idea about that. I would have to look into the relationship of I.Q and chess. I have done no research in that regard I'd be curious if you find anything out in that respect to learn, but I really don't, no, I can't speak to that."
How Mackie would fair up against anybody or any teacher in chess as he replied, "Oh man, I would say I'm pretty mediocre I'm middle of the road, we have a new teacher here. Alex is his name, I think Alex and he plays competitively, so some teachers here play competitively, so I don't know how I would fair up against somebody who plays competitively, I play just for more of the joy and the love of the game."
Morgan Tullos is a sophomore and is the President of Chess Club. Tullos joined the Chess Club due to her long-time playing of the game. She originally joined the chess club at her elementary school as an after-school activity and never stopped playing. At the age of 14, Tullos got more serious about the game of chess as she became the president in her freshmen year.
Nowadays to get better at chess she makes sure she comes to Chess Club every Wednesday and plays with her friends during her free time. Her favorite part of chess is that it's poetic. "I mean one of our favorite things is that our founder, Mackie, said was that chess is almost poetic because there's infinite options, so just the ability to know your next move one minute and not know it the next." Some important advice Tullos gives is to always protect your king and look for forceful moves. For preparing for an opponent Tullos stays focused as possible.
Noah Berkowitz is a sophomore and is the Vice President of the Chess Club. Berkowitz joined the Chess Club because it had an atmosphere that was really appealing and that everybody in the club is really nice and accepting. Berkowtiz's father had taught him to play chess and then in kindergarten had joined the chess club and it taught him to be a better player in the game.
Nowadays for being better at chess Berkowitz replied, "I just play and then kind of have fun doing it so, I don't know it's fun I guess." Berkowitz's favorite part of a chess game is the beginning because the "beginning because you can set the tone with what you do, who your kind of are as a chess player." Before making a move, Berkowitz asks himself if the move make sense and what would the results would be. If making that move and what pieces, could be affected. The best advice that was given to Berkowitz, is to "have fun with it." Chess is supposed to bring chess together and I think it achieved that goal."