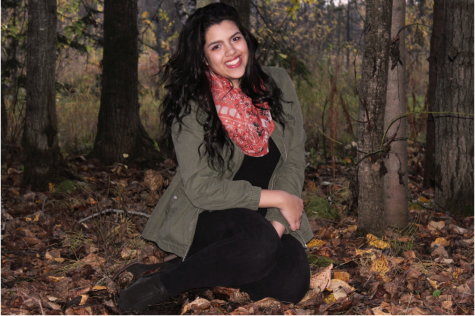 Paola Gomez Garcia was born December 2nd, 1999. She came to Alaska at the age of two from Chihuahua, Mexico and has lived in Anchorage, Alaska for almost 16 years now.  Paola lives with her two parents, Sergio and Rocio, and her younger sister of nine years, Michelle.
       She is currently a fantastic senior at West high school who is known to be loved by all teachers especially the journalism teacher, Mrs.Stephl and the West high principal, Mr.G.  2018 will be the year Paola will graduate from high school and be thrown out to the real world of debt and student loans for college.  Her favorite classes in the past four years have been anatomy, history and journalism.  Paola is enrolled in the Spanish Immersion program since kindergarten at Government Hill Elementary School then moved on to Romig and afterwards West.  
       Paola's favorite activities are sleeping full time, taking naps with her best friend of six years, Kassidy Violet Ellingworth and watching Netflix.  Her favorite things to watch on Netflix are Friends, The Flash, New Girl, Dexter and her most favorite the Spanish soap opera La Reina Del Sur.   Puppies are Paola's main weakness; whenever she is presented with a puppy/dog she cries out of joy.  Life goals/plans Paola hopes to accomplish are to backpack around Europe, meet new people, and experience new cultures.  Countries she plans to visit are Spain, Australia, Brazil, Ireland, the United Kingdom, Italy, Greece, Russia and many more along the way.
       Career goals Paola has is unknown for the time being but she does know for a fact she wants to help people and better transform the next generations. Paola is known for her persistence, dedication and strong will.  She will go very, very, very far in life.
Paola Gomez Garcia, Student
May 07, 2018

Choir Cleans up in Cali Competition

(Story)

Jan 10, 2018

Mexico/Puerto Rico Fundraiser

(Story)

Nov 16, 2017